Don't just meet — Convene
Empower your board with a smart, simple, and secure board management software trusted by leading organisations across the globe.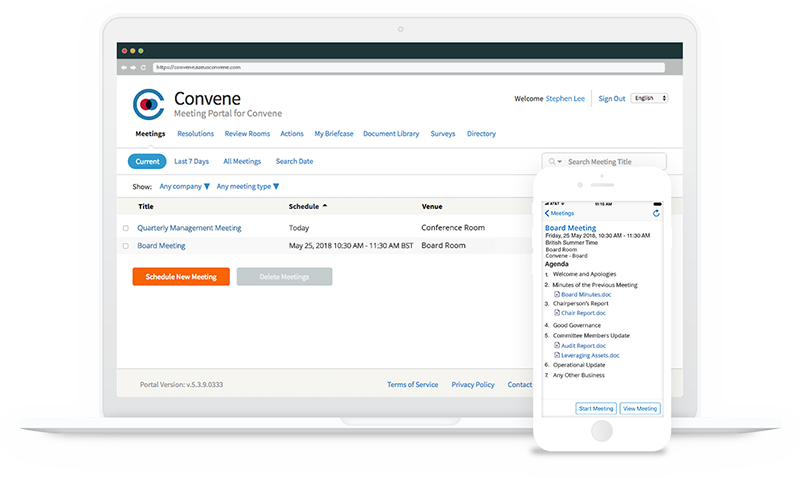 The board management software of choice by top companies worldwide
Azeus Convene is a multi-awarded and leading board management software that is used by directors and executives in more than 80 countries worldwide. Designed to meet the needs of senior level executives and administrators, Azeus Convene advocates for smarter meetings – less effort with better results. It enables its users to run digital meetings, enhance transparency and accountability, and achieve higher levels of productivity and collaboration in the boardroom.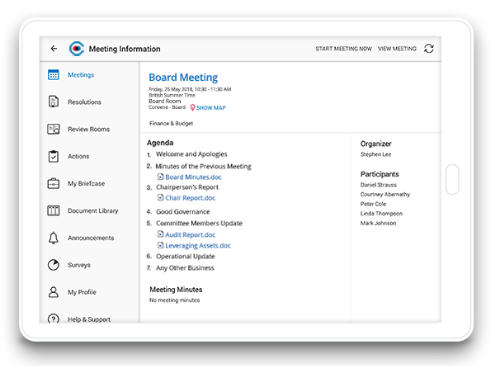 Smart Governance Processes
A board of directors' main purpose is to ensure the organisation's success by jointly directing the company's activities and prioritising the well-being of its stakeholders. Azeus Convene is built with features that address the challenges related to corporate governance, corporate social responsibility, and corporate ethics among others.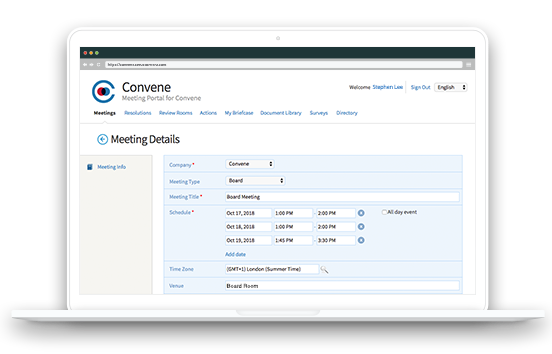 Simple Meeting Management
Board members need a solution that would allow them to work as efficiently and effectively as possible. Designed specifically to meet the needs of organisational leaders, Azeus Convene gives you complete control over the entire meeting process – from pre-meeting preparation to post-meeting document distribution.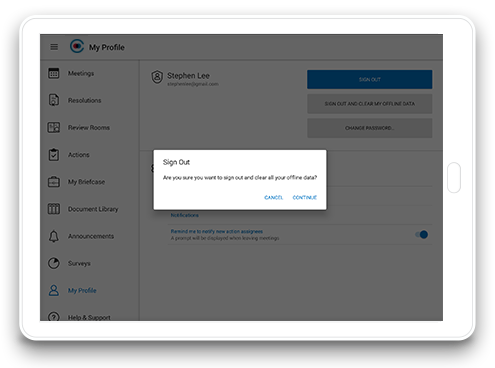 Secure Documents System
Given the rise of cyber security attacks, companies need to take a proactive stance in protecting confidential information. Azeus Convene is designed and developed with an emphasis on responding to the challenges of enterprise and public services that require data protection, control, availability, and application security.
Directors
With Azeus Convene, executives are quickly able to make decisions and work on their chosen platform anytime and anywhere.
Administrators
Driven to make work easier for secretaries across the globe, Azeus Convene is equipped with features that will eliminate tedious processes.
Key Features
Enjoy a comprehensive set of tools through the use of our board management software.
---
Pre-Meeting

Preparation

Minimise backlogs and inefficiencies in preparing for meetings

Drag and drop files
Create an agenda
Schedule meetings
Set access levels
Invite Participants

Explore more features

Meeting Presentation

Engage directors and ensure efficient decision making in the boardroom

Start remote meetings
Make annotations
Vote on items
Enable page sync
Direct attention

Explore more features

Post-Meeting

Document Distribution

Securely distribute confidential information to members of the board

Summarise meetings
Send minutes
Track actions
Export items
Download meeting pack

Explore more features
Security at a Glance
As a premier board management software, we implement the highest security standards for your organisation
SSAE16- and ISO 27001-compliant hosting

Hosting facilities are certified

AES-256 network and document encryption

Documents are always encrypted

Multiple-factor authentication

Use only registered devices

On-the-fly decryption model

Security for mobile devices

Fine-grained access control

Grant access to groups or individuals

Automatic purge for lost devices

Temporary files are deleted

Audit trail

Track all activities your environment

Password policy

Password is protected using AES 256-bit
Learn More
The Azeus Convene Advantage
As a top-notch product, Azeus Convene takes pride in being the most efficient and economical board management software in the market
90,000

---

sheets of paper saved per year

2x

---

cheaper than other solutions

$10,000

---

cost savings per annum

90%

---

meeting preparation time saved
Discover more benefits
Measurable Results, Real Experiences
Get to know how Azeus Convene was able to impact different types of organisations from various industries.
---
Learn why America First Credit Union considered Convene as "best for value"

"With its highly efficient board portal for iPad, Android, Windows and Mac, Convene was a clear winner, offering great value for comprehensive features, such as ADFS, intuitive design and stringent security. Convene helped to streamline our board meeting processes to save time and money."

- Thayne Shaffer, Senior Vice President and Controller

Read Case Study

Learn how Sheffield Children's NHS Trust was able to reduce their paper usage by 48,500 pages in one year

"The main driver for switching to Convene was the amount of time and money we were spending on printing. The average board pack was 104 pages, with 14 participants and 11 meetings a year. That's 16,000 pages."

- Anne Greaves, Digital Communications Officer

Read Case Study

Hear about Cafcass's straightforward and user-friendly experience with Azeus Convene

"We took Convene's user guidance and ran workshops with the board members, who found it straightforward and user-friendly. As the administrator I didn't need any formal training either."

- Elizabeth Morrison, Board and Corporate Support Assistant

Read Case Study